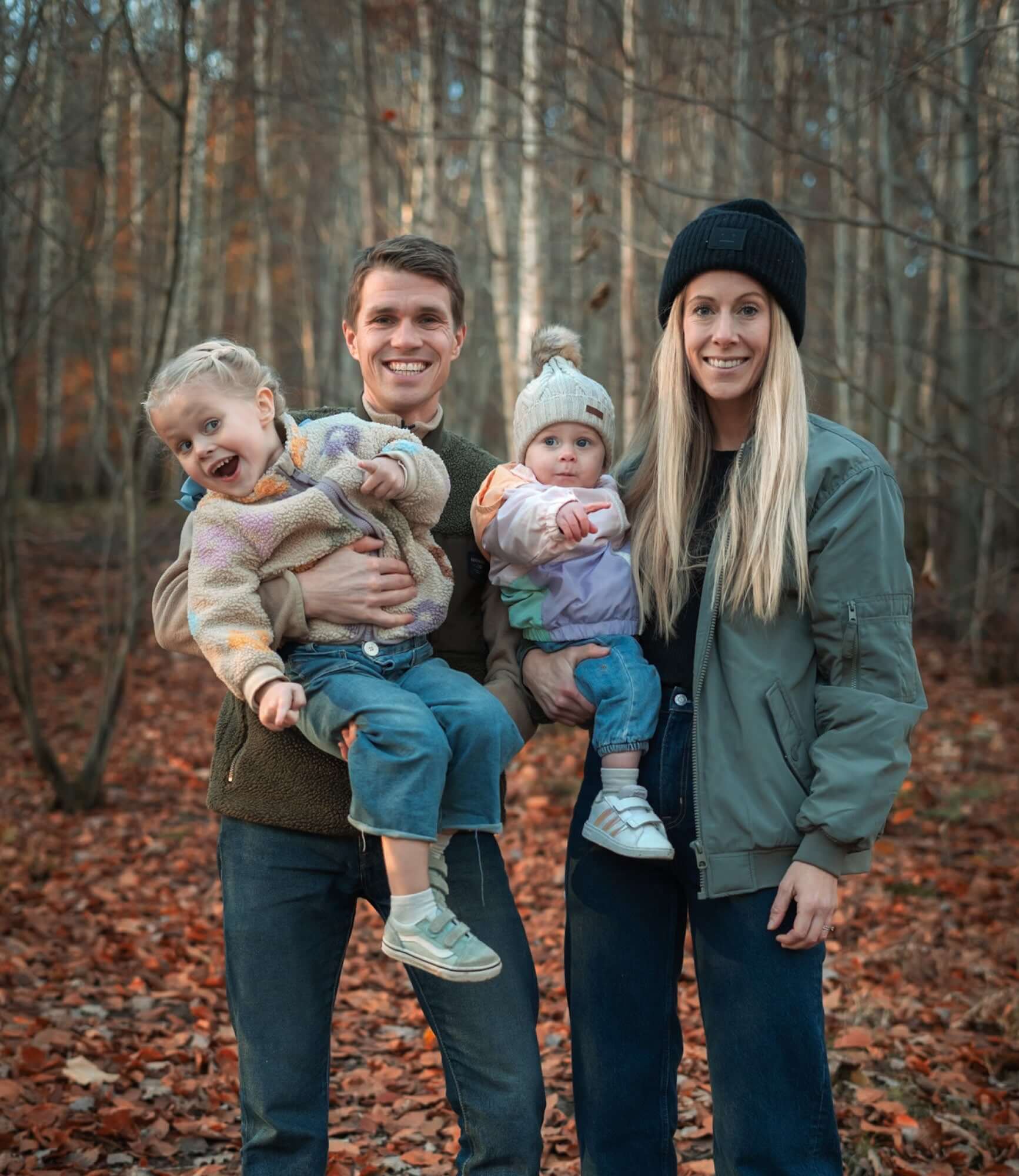 The doctor and prosecutor with a passion for an active lifestyle and his two daughters
The Hultegård family
So many strange words come out of my mouth when I eat it!
Background
The Hultegård family consists of Linus from Gnosjö in Småland and Evelina from Linköping. They found each other during their studies in Gothenburg. They love the city with its proximity to forest and nature and have now built a life together there. Linus now works as a vascular surgeon at Sahlgrenska University Hospital and Evelina is a prosecutor in Gothenburg. Together they have daughters Hedda and Stella, born in 2020 and 2022.
Hi Linus, can you tell us a bit about your family and what your life is like?
Evelina and I live an active life and, in addition to our demanding jobs, we focus on our elite running careers. Our children are very involved in our training, mainly thanks to running strollers and home gyms. This has, among other things, enabled me to represent Sweden in the 2023 World Trail Running Championships. Evelina has also, despite two pregnancies, taken great strides in recent years and set personal bests in both 5 km, 10 km and half marathon.
When we had our first daughter Hedda, a new chapter began. Two years later she became big sister to Stella. They both keep up with us and love to sit in the stroller and explore new places.
How does Alex&Phil fit into your daily life?
In my work at Sahlgrenska, I work daily with preventive work in health and lifestyle but also "what comes if you don't live healthy". Knowing a lot about the body and at the same time being an elite athlete in an endurance sport naturally means that nutrition becomes very important. With Hedda, we rarely took shortcuts but cooked most of the food from scratch. When Stella came into the world, time has decreased, which makes it easier to take shortcuts. We are often away on excursions and trips of various kinds and it is therefore important to have a convenient snack at hand. The kids absolutely love Alex&Phil's pouches and they are now always included in the backpack.
What are your favorite products?
The biggest favorite is the alphabet pasta, Mini Alfabeto, which they find both tasty and fun. "So many strange words come out of my mouth when I eat it!", Hedda says. We parents also love Alex&Phil's products. Both because they are nutritious and because Alex&Phil has a climate approach that is at the forefront. Our greatest hope is that our planet will be preserved for our children to discover and enjoy, and the fact that Alex&Phil works for this means a lot to us.