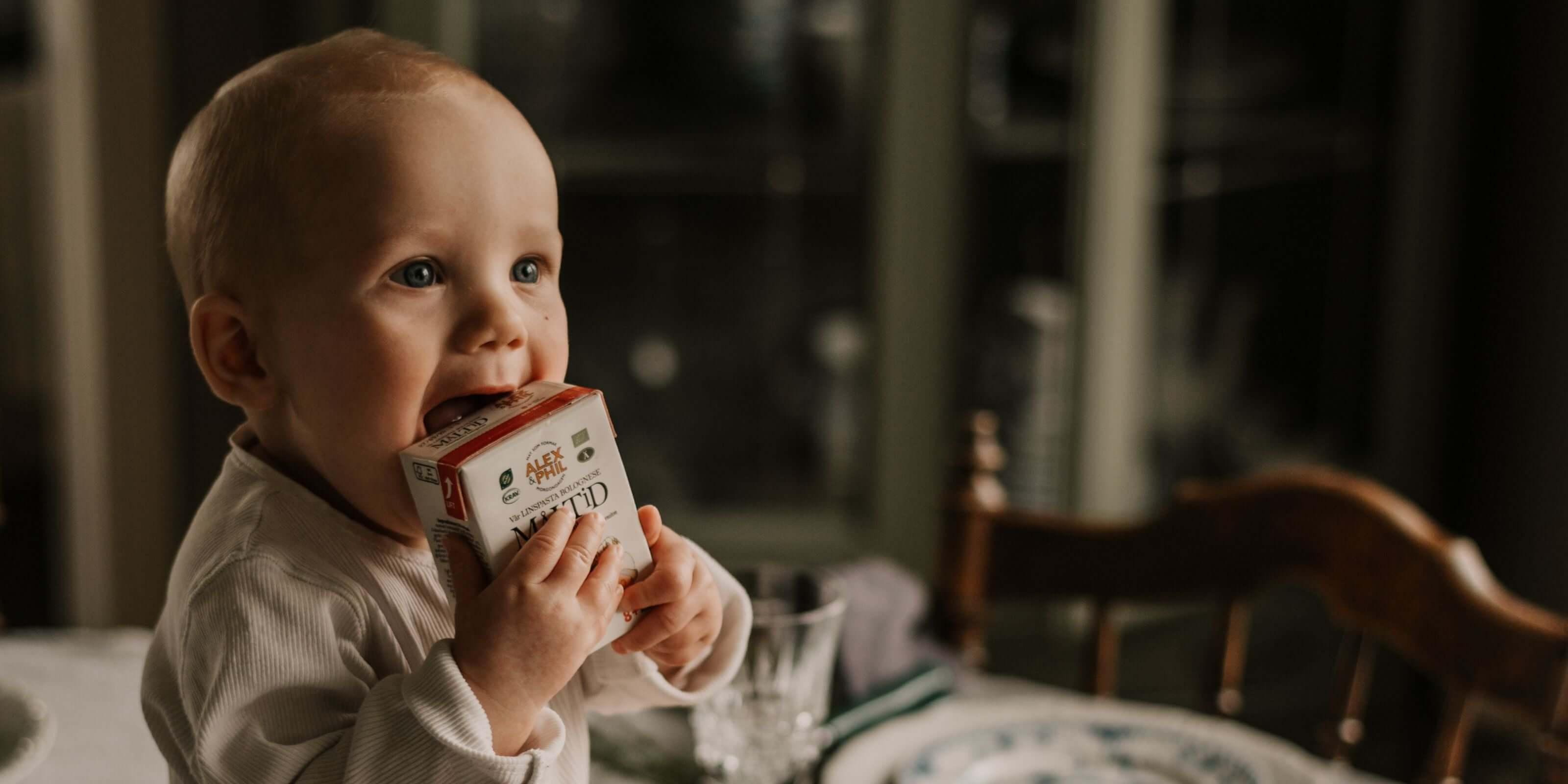 Frequently asked questions
Here you will find answers to the most common questions we receive. If you cannot find the answer to your question, please feel free to contact us using the form at the bottom of the page.
What are the KRAV and Ä labels?

KRAV is Sweden's best-known sustainability label for food. KRAV labeled food is organic, but also has extra high requirements for biodiversity, less climate impact, good animal welfare and better working conditions for employees. KRAV's legislation also apply to more areas than the EU's organic legislation, such as fishing, slaughter and restaurants. Read more here.


The purpose of the Ä label is to help consumers who are looking for genuine food. Therefore, additives, fake aromas and industrial ingredients are not allowed in Ä-labeled products. In addition, the products must be honest. You can read more about the label here.
Why do you use cold-pressed rapeseed oil in your food?

We use rapeseed oil in our products to provide essential fatty acids such as omega-3. Other oils do not have the same levels of these fats and also contain higher levels of saturated fats, which do not have the same health benefits.

The rapeseed oil in our products is made from specially selected rapeseeds that give it an extra mild flavor. It is cold-pressed and comes from Gunnarshög farm in Österlen, Skåne. Cold-pressed rapeseed oil has a higher proportion of vitamins, minerals and essential fats than regular rapeseed oil. You can also buy it in bottles in selected stores and here in our webshop. It is tested to meet all requirements for baby food. We often use it ourselves and it is excellent for mixing into food or when frying or baking.
Do your products contain iron?

Many of our products contain natural iron. However, we do not enrich our food with chemically produced vitamins and minerals because we believe that children should be fed naturally nutritious food. That's why you can find ingredients like rose hips, blackcurrants, dried brown apricots, beef and beluga lentils in our food - all ingredients with good natural levels of iron.

In terms of iron, we believe that this issue has been exaggerated and risks scaring parents into buying industrially produced porridge instead of making porridge themselves or freely choosing which foods to feed their child. This is not least because it is well documented that only up to 7% of the industrially added iron (i.e. the enriched iron) is actually absorbed by the body. Here you can read what Livsmedelsverket says on this particular issue: https://fragor.livsmedelsverket.se/org/livsmedelsverket/d/absorption-av-jarn-fran-industitillverkade-berikad/
Do you have vegan products?

All our smoothies and porridges are vegan. Our 'vegetarian' meals are also vegan-friendly. Thanks to their high nutritional content, the meals are also sources of protein, which is particularly important if you eat vegan/vegetarian food completely or frequently.
My child is allergic to milk protein, eggs and gluten. Can they eat your products?

All our products are gluten-free. In the products containing oats, we use a naturally gluten-free oat and our production facilities are certified to produce gluten-free. All our products are free of milk protein. We also do not use eggs in our production. However, we have not certified our products against eggs as an allergen. Hence, we cannot guarantee you that they are free from egg allergens.
What is the difference between the porridge in pouch and in tetra?

The porridge in pouch has a smooth texture and is suitable for children from 6+ months. The tetra porridge contains more of both oats and millet and has a bit more chewiness to it.
Do you use juice concentrates?

No, we never use juice concentrate and never will. Industrial juice concentrate, which is widely used in many foods and in baby food, is nothing more than concentrated sugar.

On the other hand, when we sometimes need to add liquid to certain products, we use real fruit juice that has the pulp and other nutrients remaining. It has a natural sweetness but also contains fiber, vitamins and minerals, which water does not. We generally think that there is too much water in baby food and it is of course cheap for the manufacturers but not very sensible for either humans or the environment.
Do you add vitamins and minerals?

No, we do not. In short, we believe that vitamins and minerals should come naturally from good raw materials and not be added as an ingredient.

We select ingredients based on their nutritional profile to naturally maximize their nutritional content.
What is the shelf life of your products?

The shelf life of our products ranges from 3-18 months. Unopened packages should be stored at room temperature. An opened package can be kept in the refrigerator and consumed within 24 hours.
Do your products need refrigeration?

Our products are pasteurized and can therefore be stored at room temperature. Opened packaging should be kept in the refrigerator for a maximum of 24 hours.
Can your products be frozen?

We have not quality-tested our products for freezing, but as they are made only from natural ingredients, there is no risk associated with freezing them. It is possible that the texture may change after thawing.

Tip: try freezing leftover food in regular ice cube trays. For example, you can add one or two cubes of frozen smoothie when making porridge.
Does your products need to be heated?

Our meals and porridge on tetra are best when lightly heated. It is best to heat the food in a saucepan while stirring, or on a plate in the microwave. Alternatively, you can also heat the pack in a water bath.

Our smoothies and porridge in pouch taste best at room temperature, but can also be chilled for a hot summer day.

NOTE! Do not heat the package in the microwave.
Are your products tested?

All our products are tested for baby food quality according to strict food standards. Baby food is subject to higher standards than other foods because young children are more sensitive to unhealthy substances. We think it is right that baby food is subject to more stringent requirements and all our products are tested to meet the minimum requirements for baby food.
What is your packaging made of?

The pouch-packaging for all our porridges and smoothies is mainly made from plant-based, renewable materials such as sugar cane. Our Tetra Recart® package is mainly made from FSC-labeled cardboard and has 80% less climate impact than equivalent glass jar with a lid.
How is your packaging recycled?

Our pouches are recycled as plastic. Our tetra packs are recycled as paper packaging.
Who manufactures your packaging?

We work with some of the largest packaging manufacturers in the world. Our pouches are made by Gualapack, you will see their logo at the bottom of our packs. Gualapack is the leading company when it comes to the production of pouches for baby food. The Tetra Recart® package is produced by Tetra Pak. It is mainly made of FSC-labeled cardboard and is >80% more climate-friendly than the equivalent glass jar with a lid.
How environmentally friendly is your packaging?

For us, it is important that our products are delivered in packaging that is safe, as environmentally friendly as possible and in a format that works for both children and parents, which in our case means packaging that is:

Lightweight, resulting in low emissions during transportation.
Re-sealable so you can use as little or as much of the product as the child wants at any given time.
Food safe, i.e. packaging that does not contain dangerous substances such as
bisphenol-A, which is now banned in baby food packaging.
Easy to take with you.
Possible to recycle.
Food safe with strong barriers that give the products a good shelf life, reducing food waste.
How much does your packaging contain?

Smoothie and porridge in a pouch: 100g

Meal in a pouch: 120 g

Meal and porridge in tetra: 200 g

Cold pressed rapeseed oil: 0.25 l

How long will it take to receive my products?

It depends on where you order from. If you place an order before 12.00 pm, it will be shipped the same day from our warehouse. Approximate delivery times:

Sweden: 1-2 working days
Nordic: 2-4 working days
EU: 3-6 working days
Unfortunately, as this is a food product, there is no right of return. Should there be anything wrong with what you have ordered, we will of course make sure to fix it. Send us an email at hello@alexphil.se or use the form below.
What delivery options do you offer?

Sweden: Bring service point, Budbee home delivery/box.

Norway: Bring klimanøytral servicepakke.

Finland/Denmark: Bring service point, Budbee home delivery/box, DHL Parcel Connect (choose between service point or home delivery).

Rest of EU: DHL Parcel Connect (choose between service point or home delivery).
Contact us
Can't find the answer to your question?
Get in touch using the form and we will get back to you as soon as possible.