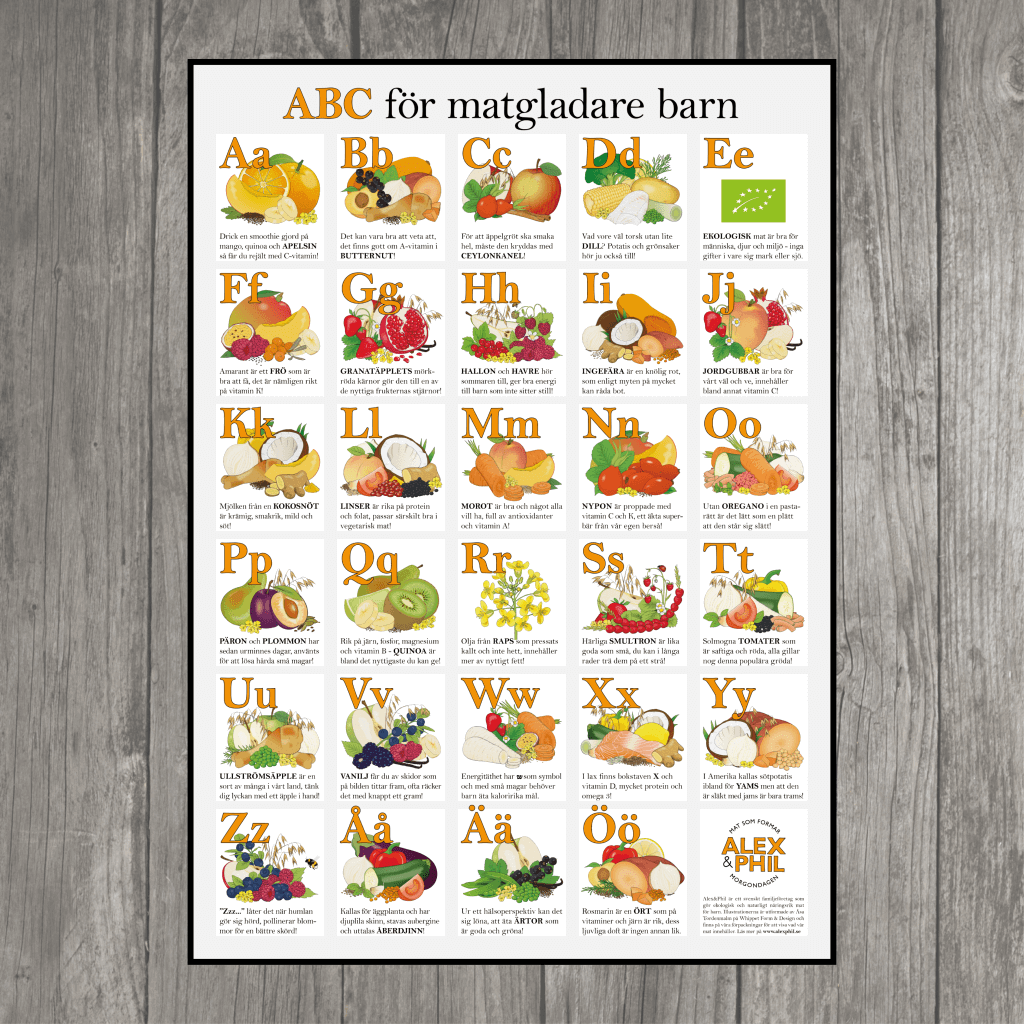 ABC poster for food-loving children! (50x70 cm)
A classic ABC poster to put in the children's room - or why not in the kitchen! A fun way to learn the alphabet and hopefully also inspire an interest in good, organic and nutritious food. Contains a total of 28 illustrations from our products that show what ingredients we have in our food. Each illustration is accompanied by clever and instructive rhyming texts.
The illustrations are made by Åsa Tordenmalm at Whippet Form & Design.
Four-color printing on matte coated 170 gram premium paper, dimensions: 500x700 mm. Note! Frame not included.
Order before 12pm, shipped the same day (weekday). Free shipping from 499 kr.
Buy 10 products of your choice, get a 10% discount.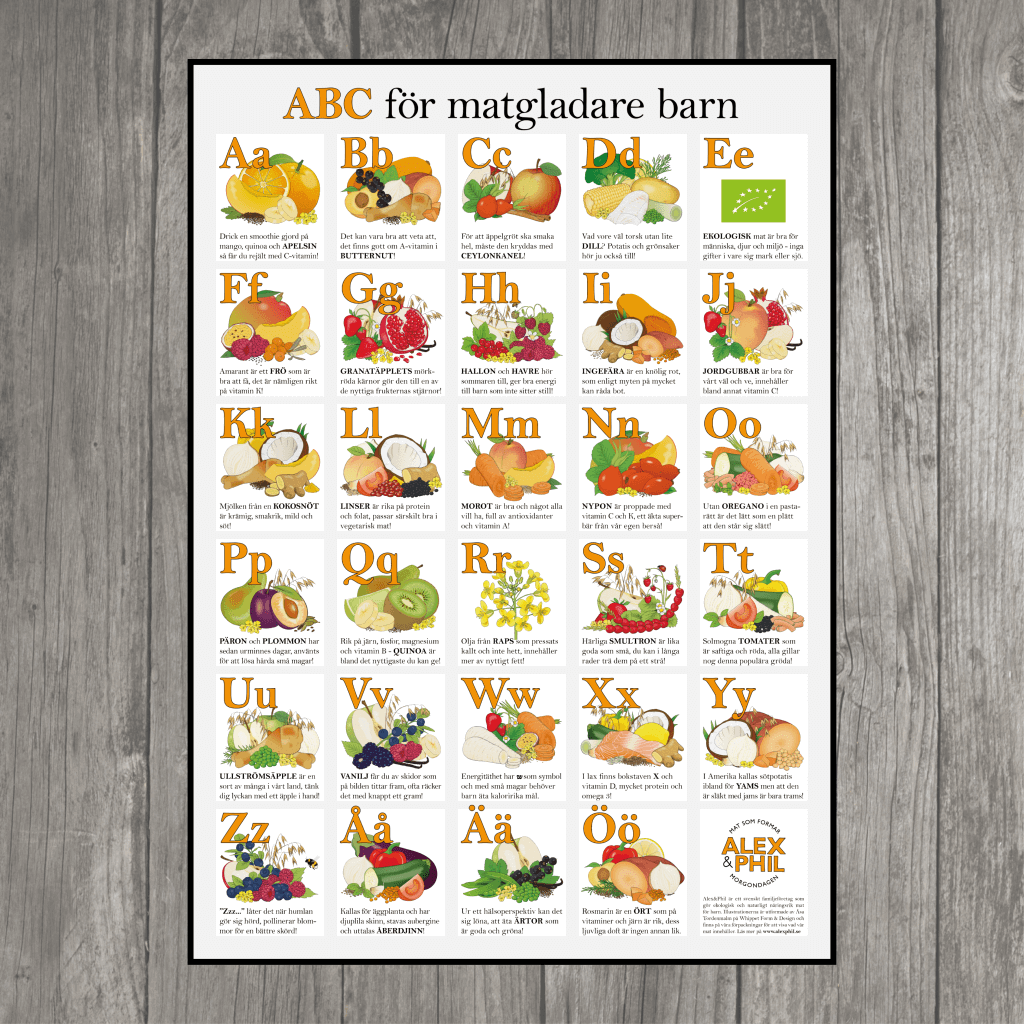 It has received 0 reviews.
Frequently asked questions
What shipping options do you offer?

Sweden: Bring service point, Budbee home delivery
Norway:
Finland/Denmark:
Rest of the EU: DHL Parcel Connect (choose between service point or home delivery).
How long will it take to receive my order?

It depends on where you order from. If you place an order before 12.00 pm, it will be shipped the same day from our warehouse. Approximate delivery times:

Sweden: 1-2 working days
Nordic: 2-4 working days
EU: 3-6 working days
What is the shelf life of your products?

The shelf life of our products ranges from 3-18 months. Unopened packages should be stored at room temperature. An opened package can be kept in the refrigerator and consumed within 24 hours.
Why do you use rapeseed oil in your products?

We use both rapeseed oil and olive oil in our products for their essential fats, especially omega-3 and omega-6. Other oils do not have the same levels of these fats and also contain higher levels of saturated fats, which do not have the same health benefits.
Why don't your products need to be refrigerated?

Write content to answer to common questions your customers may have about your products, shipping policies...
Are your products tested?

Write content to answer to common questions your customers may have about your products, shipping policies...
Do your products contain iron?

Many of our products contain natural iron. Because we believe that children should have naturally nutritious food, we consistently opt out of additives and chemically produced minerals and vitamins. Instead, we carefully select our ingredients from a nutritional and taste perspective to ensure the highest possible natural levels of important nutrients such as iron. That's why you can find ingredients like rose hips, blackcurrants, unwaxed dried apricots, beef and beluga lentils in our food - all ingredients with good natural levels of iron.
Our customer service is available on weekdays 09-17. Do not hesitate to contact us if you have any questions.
Estimated response time: 12h